Welcome to The Show!
Welcome to the Poconos Movieplex located in Marshalls Creek, PA We are located off of Route 209 in the Foxmoor Shopping Village - formerly the Foxmoor Cinema 7.
Don't forget to sign up for the email list! You will receive weekly reminders of the upcoming show schedule and more!
UPCOMING PREMIERES:
Pre-Sale Tickets Available Now --->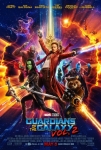 Guardians of the Galaxy Vol. 2
OPENING NIGHT TICKETS ON SALE FRIDAY 3/24 AT 9AM
Thursday, May 4th, 2017
3-D: 7:00pm and 10:00pm
Standard: 8:00pm